| | |
| --- | --- |
| | WORLD SPACE CENTERS |
---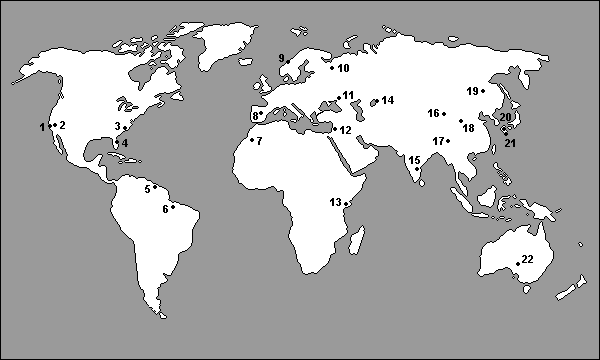 1 - Vandenberg AFB
2 - Edwards AFB
3 - Wallops Island
4 - Cape Canaveral/KSC
5 - Kourou
6 - Alcantara
7 - Hammaguir
8 - Torrejon AB

&nbsp 9 - Andoya
10 - Plesetsk
11 - Kapustin Yar
12 - Palmachim/Yavne
13 - San Marco Platform
14 - Baikonur/Tyuratam
15 - Sriharikota (SHAR)


16 - Jiuquan
17 - Xichang
18 - Taiyuan/Wuzhai
19 - Svobodny
20 - Kagoshima
21 - Tanegashima
22 - Woomera

NUMBER OF ORBITAL LAUNCHES BY SITE
COUNTRY
LAUNCH SITE
LATITUDE
LONGITUDE
1957-85
1986-90
1991-95
TOTAL
CIS/USSR
Plesetsk
62.8o N
40.1o E
1056
243
127
1426
CIS/USSR
Baikonur/Tyuratam
45.6o N
63.4o E
693
181
113
987
CIS/USSR
Kapustin Yar
48.4o N
45.8o E
82
1
0
83
CIS/USSR
Svobodny
51.4o N
128.3o E
0
0
0
0
USA
Cape Canaveral/KSC
28.5o N
81.0o W
370
49
98
517
USA
Vandenberg AFB
34.4o N
120.35o W
467
20
20
507
USA
Wallops Island
37.8o N
75.5o W
19
0
0
19
USA
Edwards AFB
35o N
118o W
0
1
4
5
France
Kourou
5.2o N
52.8o W
18
23
39
80
France
Hammaguir
31.0o N
8.0o W
4
0
0
4
Japan
Tanegashima
30.4o N
131.0o E
13
9
5
27
Japan
Kagoshima
31.2o N
131.1o E
16
3
3
22
China
Jiuquan
40.6o N
99.9o E
13
5
4
22
China
Xichang
28.25o N
102.0o E
2
6
9
17
China
Taiyuan/Wuzhai
37.5o N
112.6o E
0
2
0
2
Italy
San Marco platform
2.9o S
40.3o E
8
1
0
9
India
Sriharikota (SHAR)
13.9o N
80.4o E
3
0
3
6
Israel
Palmachim/Yavne
31.5o N
34.5o E
0
2
1
3
Australia
Woomera
31.1o S
136.8o E
2
0
0
2
Brazil
Alcantara
2.3o S
44.4o W
0
0
0
0
Spain
Torrejon AB
40.5o N
3.5o W
0
0
0
0
Total Launches
2766
546
426
3738

Australia
WOOMERA
The Australian Space Council is studying under its 5 year rolling plan the requirements for establishing light launch facilities at Woomera initially and then Darwin. A goal is for Australia to secure a significant share of Asian space business in launches, small satellites and space-based services. However, the Government has yet formally to endorse the launch program. Woomera's advantages include polar orbit access, a sparsely inhabited downrange area, an existing infrastructure and largely cloud-free weather.
Brazil
ALCANTARA
The CLA Alcantara Launch Center, on the Atlantic coast outside Sao Luis, was expanded to handle the VLS orbital launcher; a formal opening was held in Feb-1990. Pads are also provided for the Sonda 3/4 sounding rockets, meteorological rockets and other science vehicles. The position near the equator offers 25% greater advantage than Cape Canaveral from the Earth's rotation. It was reported in mid-1990 that discussions were underway for commercial Proton operations.
China
JIUQUAN SATELLITE LAUNCH CENTER
Built in the early 1960s in the Gobi desert 1,600 km west of Beijing, north of Jiuquan city. Formerly known in the West as Shuang Cheng Tzu, this was China's first launch site but it is limited to SE launches into 57-70o orbits to avoid overflying Russia and Mongolia. Sounding rockets also utilize the site. Two pads, with a shared mobile service tower, were employed separately for CZ-2/FB-1 and CZ-1 space vehicles but in early 1980s the latter added the capability for CZ-2C missions. CZ-2D was introduced in 1992. Jiuquan will continue to be used primarily for recoverable Earth observation/mg missions but because of its geographical constraints greater commercial activities are focused on the other two launch bases. If a manned project is accepted for the 1996-2000 5 year plan, a new CZ-2E pad would be built at Jiuquan.
XICHANG SATELLITE LAUNCH CENTER
Xichang was selected from a shortlist of 16 sites of 81 surveyed for a more favorable GEO mission base than Jiuquan; construction work 65 km north of Xichang city began in 1978 and resulted in the first launch in Jan-1984. Xichang has two separate launch pads. The single CZ-3 pad can support up to five missions annually. The second complex is for CZ-2E/3A/3B vehicles with add-on boosters. Its first launch was 16-Jul-1990. The local population have traditionally been allowed to live close to the pads. When the maiden CZ-3B crashed 14-Feb-1996 into a hillside 1.5 km from the complex, the death toll was 6 plus 57 injured. When the CZ-2E of 25-Jan-1995 exploded the debris killed six and injured 23 in a village 7 km downrange.
TAIYUAN SATELLITE LAUNCH CENTER
Taiyuan was inaugurated in Sep-1988 for launches by CZ-4 into polar orbits for remote sensing, meteorological and reconnaissance missions. There is a single pad. It was initially operated for missile testing as an extension of Jiuquan for larger vehicles, including the DF-5. CZ-2C launches are planned to begin in 1996 carrying Iridium satellites. The site is designated Wuzhai by US Space Command.
CIS / USSR
Commonwealth of Independent States (CIS), created Dec-1991 upon the disbanding of the Soviet Union, is made up of 12 of the 15 former Soviet constituent republics. Members include Armenia, Azerbaijan, Belarus, Georgia, Kazakhstan, Kyrgyzstan, Moldova, Russia, Tajikistan, Turkmenistan, Ukraine, and Uzbekistan.
BAIKONUR/TYURATAM
All manned flights and planetary missions are launched from 45.6oN/63.4oE. Due-east launches (the most efficient) are not allowed because of the lower stages impacting in China. The Baikonur Cosmodrome offers nine launch complexes, with 15 pads, to accommodate space and missile activities. It is the only cosmodrome supporting Proton, Zenit, Energia and Tsyklon SL-11. Missile and rocket tests began in the area in the early 1950s, with construction of the pad from which both Sputnik 1 and Yuri Gagarin were launched starting in 1955. The site's location was pinpointed in 1957 as being near Tyuratam in Kazakhstan, about 370 km SW of Baikonur. However, the Soviets continued to give its latitude/longitude as that of the town of Baikonur. Kazakhstan finally named it after Tyuratam in 1992, but everyone still calls it Baikonur.
KAPUSTIN YAR
Known as the Volgograd Station to its personnel, this was the first rocket development center, hosting its first launch in 1947. During its early years, Kapustin Yar tested captured V2 missiles and conducted sounding rocket experiments carrying dogs and other animals up to 500 km. Its first orbital launch was Cosmos 1 in 1962. By 1980 there had been 70 orbital launches, mostly small Cosmos science satellites, but as work was switched to Plesetsk the annual launch rate fell to an average of only one. Kapustin Yar in later years handled only occasional missions, possibly for radar calibration. There has been no orbital launch since 1987, leaving the total at 83. It is no longer under VKS control but there are still some missile testing activities. Cosmos suborbital launches continue and AKO Polyot offers commercial orbital launches, partly using Cosmos USA processing facilities transported from Plesetak.
PLESETSK
Mirny-12, Arkhangelskaya oblast, 164170 Russia
Tel: 7-095-330-9190
Fax: 7-095-330-9190
Plesetsk was long by far the world's busiest spaceport but has now been overtaken by Baikonur. Orbital launches have declined for several years, a process emphasized as programs transfer to newer vehicles at Tyuratam. The base is located at 62.8oN/40.1oE, which enables communications and spy satellites to be placed in polar and highly elliptical orbits. Range safety restrictions now limit most flights to 62.8o, 67.1o, 73-74o, 82-83o. Construction of the first of several pads for the R7/A-class vehicle began in Apr-1957 to support the nascent ICBM program. The pad and ICBM began active duty in Jan-1960. There are nine operational pads: three for Cosmos, four Soyuz/Molniya and two Tsyklon. Complex 35 with two Zenit pads and vehicle/spacecraft processing facilities is under construction for polar missions from 1997. Thus the most powerful launcher available at Plesetsk is still the Molniya.
SVOBODNY
Proposals for a new cosmodrome at the decommissioned missile site at Svobodny-18 100 km from the Chinese border surfaced during Russia's negotiations with Kazakhstan over Baikonur's future. They were widely perceived as a negotiating ploy, but President Yeltsin signed a decree 1-Mar-1996 approving the cosmodrome's creation. Start will be the first user, employing its own transportable launcher in late 1996. Rockot will follow before end-1996, employing one of five silos. The largest investment will be a 2-pad Angara complex.
France
CENTRE SPATIAL GUYANAIS
BP726, F-97387 Kourou Cedex, French Guiana
Tel: 594-33-51-11
Fax: 594-33-47-66
Although owned by CNES, the Centre Spatial Guyanais (CSG) is made available to ESA/Arianespace under a governmental agreement that guarantees access to the ESA-owned Ariane launch facilities. CSG is the most favorable major site for GEO launches, its near-equatorial position providing a 15% payload advantage over Cape Canaveral for eastward launches. Guiana's coastline unusually permits launches into both equatorial and polar/Sun-synchronous paths, with inclinations up to 100.5o possible. 497 launches of sounding rockets and orbital vehicles had been made through 1995 since it became operational Apr-1968, plus 60 balloons.
India
SHAR CENTER
SHAR, encompassing the Sriharikota Island on the east coast of Andhra Pradesh, is ISRO's satellite launching base and additionally provides launch facilities for the full range of Rohini sounding rockets. The PSLV launch complex was commissioned in 1990. Modifications underway will allow the complex to handle GSLV.
Israel
PALMACHIM
An area near or within Israel's Palmachim Air Force Base south of Tel Aviv, and near the town of Yavne, was inaugurated as an orbital site with the launch of the Ofeq 1 satellite 19-Sep-1988. Facilities are classified although they are reportedly visible from the coast road. Located at the eastern end of the Mediterranean, the site is restricted to retrograde departures for range safety considerations.
Italy
SAN MARCO
Italy's offshore orbital launch platform was last employed in Mar-1988 - its first firing in 12 years. The Italian Vega would use the site, although the vehicle's future is highly uncertain. Owned/operated by the Italian government, it comprises two platforms in Formosa Bay 4.8 km off the coast of Kenya. The San Marco platform provides the launch pad, while Santa Rita platform houses blockhouse facilities. The range is maintained in operational condition and the telemetry/tracking station still works under ESA contract. The range became operational in 1966 and by mid-1976 eight satellites had been launched.
Japan
KAGOSHIMA SPACE CENTER
Uchinoura, Kimotsuki-gun, Kagoshima 893-14
Tel: 81-99-467-2211
Fax: 81-99-467-3811
Japan's first six satellites were launched from these leveled hilltops facing the Pacific Ocean at Uchinoura on the southern tip of Kyushu Island. By end-1995, orbital launches totaled 21 successful, with 349 launches of all types. Construction of a sounding rocket site began in Feb-1962, with extensions for science satellite launches by M rockets completed in 1966. Kagoshima's M-3SII all-solid ISAS/Nissan orbital launcher retired in Jan-1995. The S-310, S-520 and K-9M sounding rockets and the MT-135 meteorological rocket are currently supported. Annual launch rate is typically 3-4 for the larger sounding rockets. Facilities have been upgraded to support the new M-5 orbital vehicle, first launched in Feb-1997.
TANEGASHIMA SPACE CENTER
Minamitane-machi, Kumage-gun, Kagoshima 891-37
Tel: 81-9972-6-2111
Fax: 81-9972-4-4004
NASDA's Tanegashima Space Center (TNSC) orbital launch facility is located on the SE tip of Tanegashima Island, 1,000 km SW of Tokyo. The more northerly Osaki Launch Site includes the H2/J1 pads and liquid engine static test facilities, while the Takesaki Launch Site handles sounding rockets and provides facilities for H2 solid booster static firings and the H2 Range Control Center. A new pad will be completed in 1999 for the Upgraded H2.
United States
AMES RESEARCH CENTER
Moffet Field, California 94035-1000
Tel: 1-415-604-9000
Fax: 1-415-604-3953
Ames Research Center was founded in 1939 as an aircraft research laboratory and became part of NASA in 1958. Its major research activities focus on computational and experimental aerodynamics, hypersonic aircraft, aeronautical and space human factors, life sciences, Earth environment, space science, solar system exploration and infra-red astronomy. Ames manages Pioneer 10/11 and was responsible for Galileo's Jupiter atmospheric entry probe. It headed NASA's SETI program until activities were terminated by Congress in late 1993.
APPLIED PHYSICS LABORATORY
The John Hopkins University
Johns Hopkins Road, Laurel, Maryland 20723-6099
Tel: 1-301-953-5000
Fax: 1-301-953-1093
Founded in 1942, Applied Physics Laboratory (APL) is a non-profit R&D laboratory and independent division of the John Hopkins University. It operates primarily under a contract with the US Navy's Space & Naval Warfare Systems Command for almost all DoD-sponsored programs and other federal government activities. APL is a major center for satellite development, construction and operation. Through 1995, it had built 56 satellites. It has also provided scores of space instruments.
CAPE CANAVERAL AIR STATION
Patrick AFB, Florida 32295-5002
Tel: 1-407-494-1110
Fax: 1-407-494-7302
Cape Canaveral Air Station (CCAS) is under the direction of the US Space Command 45th Space Wing. Cape Canaveral encompasses active Titan, Atlas and Delta complexes in addition to providing support facilities for the military, NASA and commercial organizations. 455 space launches have been made to end-1995, including NASA's first 17 manned missions. The annual launch rate is now constrained to 25-30 because, despite upgrading, the Cape is based on 1950s concepts. Principal current launch activities are Titan operations at pads 40/41, Delta from Space Launch Complex 17A/B and Atlas Centaur from SLC 36A/B. Orbital inclination is constrained without doglegging to 57o by range safety considerations. Polar launches from Canaveral are not permitted, as this would involve overflight of populated land masses. CCAS operates the Eastern Range tracking network extending into the Indian Ocean, where it meets the Western Range system.
DRYDEN FLIGHT RESEARCH CENTER
P.O. Box 273, Edwards, California 93523
Tel: 1-805-258-3449
Fax: 1-805-258-3566
Dryden Flight Research Center (DFRC) merged in 1981 with NASA Ames Research Center but again became a fully independent center 1-Oct-1994. It is located on the edge of the Rodgers Dry Lake at the south end of a high speed flight corridor at the USAF Edwards AFB. It has restricted airspace to conduct aeronautical research with high performance aircraft. Dryden is involved in the development of the X-33 and X-34 reusable launchers. The Apollo Lunar Landing Research Vehicle and Lifting Body family operated out of Dryden in the 1960-70s. The runways on the dry lakebed and Edward's main runway are now used as shuttle landing sites when Cape Canaveral conditions are unacceptable.
GLENN RESEARCH CENTER
21000 Brookpark Road, Cleveland, Ohio 44135
Tel: 1-216-433-8920
Fax: 1-216-433-8143
Founded in 1941 under the name Lewis Research Center, the facility was renamed Glenn Research Center in 1999. Glenn Research Center (GRC) is NASA's lead center for research, technology and development of aircraft propulsion, space propulsion, space power and satcoms. As such, Glenn oversees the Advanced Communications Technology Satellite project by operating the Master Control Station. It is the lead center for the propulsion technology development for NASA's High Speed Research Program. The Microgravity Materials Science Laboratory is housed at Glenn for qualifying space experiments. NASA's Atlas and Centaur launch activities are managed by GRC.
GODDARD SPACE FLIGHT CENTER
Greenbelt, Maryland 20771
Tel: 1-301-286-2000
Fax: 1-301-286-1707
Goddard Space Flight Center (GSFC) was established in May-1959. It is the only US national facility that can develop, fabricate, test, launch and analyze data from its own space science missions. Goddard has managed the development of 160 satellites for NASA and NOAA, including the Explorer series, COBE, Compton Observatory, Solar Max, ERBS, Spartan and URAS. Hubble Space Telescope science operations are controlled by GSFC's Space Telescope Science Institute at John Hopkins University. Goddard directs NASA's Delta launch activities and the operation of NASA's Space Flight Tracking & Data Network.
JET PROPULSION LABORATORY
4800 Oak Grove Drive, Pasadena, California 91109
Tel: 1-818-354-5011
Fax: 1-818-354-4537
Jet Propulsion Laboratory (JPL) is a government-owned facility operated by the California Institute of Technology under contract since 1959 to NASA. JPL is responsible for most of NASA's deep space missions, including Voyager, Galileo, Cassini, Mars Surveyor and Mars Pathfinder. It manages NASA's portion of the joint Ulysses solar probe, the US/French Topex/Poseidon oceanographic satellite project, the Spaceborne Imaging Radar and developed the Wide Field/Planetary Camera for Hubble. JPL developed and manages NASA's worldwide Deep Space Network (DSN) for providing links with spacecraft above 10,000 km. DSN comprises three complexes near Canberra, Australia; Goldstone, California and Madrid, Spain.
JOHNSON SPACE CENTER
Houston, Texas 77058
Tel: 1-713-483-5111
Fax: 1-713-483-2000
Johnson Space Center (JSC) was established in 1961 as NASA's center for design, development and testing of manned spacecraft; it is currently responsible for the Space Shuttle program and was named in Aug-1993 as the host center for the revised Space Station program. The center is divided into directorates responsible for specific functions: Administration, Flight Crew Operations, Mission Operations, Engineering, Space/Life Sciences, and Information Systems. JSC also manages the White Sands Test Facility in new Mexico for Shuttle propulsion, power system and materials testing.
KENNEDY SPACE CENTER
Florida 32899
Tel: 1-407-867-2468
Fax: 1-407-867-2692
Kennedy Space Center (KSC) is NASA's site for processing, launching and landing the Space Shuttle and its payloads, including Space Stations components. Located on Merrit island adjacent to the USAF launch facilities of the Cape Canaveral Air Station, Kennedy was originally built to support the Apollo lunar landing program of the 1960s. After the last Apollo lunar launch in 1972, Launch Complex 39 supported Skylab 1973-74, Apollo-Soyuz in 1975 and Shuttle from the late 1970s. Shuttle mission STS-80 in Nov-1996 brought the number of manned launches to 94 from pads 39A/B through end-1996.
LANGLEY RESEARCH CENTER
Hampton, Virginia 23681-0001
Tel: 1-804-864-6124
Fax: 1-804-864-6333
Langley Research Center (LaRC) is primarily a research center for advanced aerospace technology. Major research fields include aerodynamics, materials, structures, flight controls, information systems, acoustics, aeroelasticity, atmospheric sciences and non-destructive evaluation. 40% of the work supports space activities, including technology for advanced space transportation, large space structures and the Earth Observing System as part of NASA's Mission to Planet Earth. The center was established in 1917 and became one of the original NASA facilities when the agency was created in 1958. The US manned space program began there in 1959 before its transfer to new dedicated facilities in Houston in mid-1962. LaRC was responsible for the highly successful Lunar Orbiters and Viking Mars orbiters/landers.
LOS ALAMOS NATIONAL LABORATORY
Los Alamos, New Mexico 87545
Tel: 1-505-667-7000
Fax: 1-505-665-5552
Los Alamos National Laboratory (LANL), founded in 1943, is a multidisciplinary research facility operated by the University of California for the Department of Energy, undertaking research in nuclear/non-nuclear defense programs, nuclear safeguards/security, bio-medical sciences, computational sciences, materials science, environmental cleanup and basic science. Its first director was J. Robert Oppenheimer, who helped to found the Lab to develop the first atomic weapons. Los Alamos continues to have responsibility for monitoring outer space for nuclear explosions.
MARSHALL SPACE FLIGHT CENTER
Huntsville, Alabama 35812
Tel: 1-205-544-6534
Fax: 1-205-544-5852
Marshall Space Flight Center (MSFC) is one of the largest of NASA's 10 field centers. Marshall is the principal propulsion development center, responsible for Shuttle's main engines, solid boosters and external tank; it is the host center for NASA's Reusable Launch Vehicle technology program. It has a key role in the Space Station, covering the pressurized modules, research nodes and ECLSS. Other programs include Spacelab, development of AXAF, management of the Tethered Satellite System and Inertial Upper Stage, and support of Mission to Planet Earth. Marshall was established in 1960 around a nucleus headed by Dr Wernher von Braun, the team which orbited Explorer 1. Marshall became NASA's lead center for Apollo's Saturn launchers and developed the Skylab space station.
POKER FLAT RESEARCH RANGE
Geophysical Institute, University of Alaska
PO Box 757320, Fairbanks, Alaska 99775-7320
Tel: 1-907-474-7413
Fax: 1-907-474-7015
Poker Flat Research Range (PFRR) is primarily a sounding rocket launch facility dedicated to auroral and middle to upper atmospheric research. Operated by the Geophysical Institute, it is the world's only university-owned launch range. It is also the only high latitude and auroral zone rocket launch facility on US soil.
STENNIS SPACE CENTER
Mississippi 39529-6000
Tel: 1-601-688-3341
Fax: 1-601-688-1094
Stennis Space Center (SSC) is NASA's primary large propulsion test facility, including development testing of the Space Shuttle main engines. Stennis is also NASA's lead center for the commercialization of remote sensing technology. Eighteen other federal and state agencies occupy the site, including the Naval Meteorology & Oceanographic Command. The site was selected in 1961 to accommodate Apollo's F1 and J2 engines and Saturn V stages. All main Shuttle engines undergo acceptance testing at Stennis before flight.
VANDENBERG AIR FORCE BASE
Vandenberg AFB, California 93437-6261
Rel: 1-805-734-8232
Fax: 1-805-866-3232
Vandenberg Air Force Base (VAFB) is under the direction of the US Space Command 30th Space Wing. Vandenberg is responsible for missile and space launches on the west coast and operates the Western Range tracking network extending into the Indian Ocean, where it meets the Eastern Range system. Vandenberg provides the US with access into polar orbits using due south launches and was to have provided a base for Shuttle departures on high inclination missions. Delta missions are supported by the Space Launch Complex (SLC)-2W pad, Titan by SLC-4 and Atlas by SLC-3; Scout retired with its last launch May-1994 from SLC-5. Vandenberg is also an important base for development and operational ICBM flight testing.
WALLOPS FLIGHT FACILITY
Wallops Island, Virginia 23337
Tel: 1-804-824-1579
Fax: 1-804-824-1971
Now a part of Goddard Space Flight Center, Wallops became the third US orbital site 16-Feb-1961 with the launch of the Explorer 9 balloon by the all-solid Scout. 19 vehicles achieved orbit from Wallops by end-1995 (plus three failures), the most recent in 1985. Although the facility is still available, Scout retired in 1994. Orbital activity resumed Oct-1995, but the commercial Conestoga failed. Wallops' major activity now is as the base for NASA's sounding rocket program. Current vehicles include Super Arcas, Black Brant, Taurus-Tomahawk, Taurus-Orion and Terrier-Malemute. Some 30 launches are made annually.
WHITE SANDS MISSILE RANGE
Las Cruces, New Mexico 88002-5032
Tel: 1-505-678-1101
Fax: 1-505-678-5950
White Sands is operated by the US Army and was the site of the first major US rocket firings after World War 2 before the move was made to Florida's larger range. It is also the site of the first atomic explosion. White Sands is still a major sounding rocket firing base and supports BMDO flight testing. White Sands Test Facility (WSTF) is operated by Johnson Space Center for Shuttle propulsion, power system and materials testing. WSTF is also responsible for White Sands Space Harbor (WSSH) which provides the third Shuttle landing site in the US after Florida and Edwards AFB.
---
Compiled and edited by Robert A. Braeunig, 1998, 2000.
Bibliography